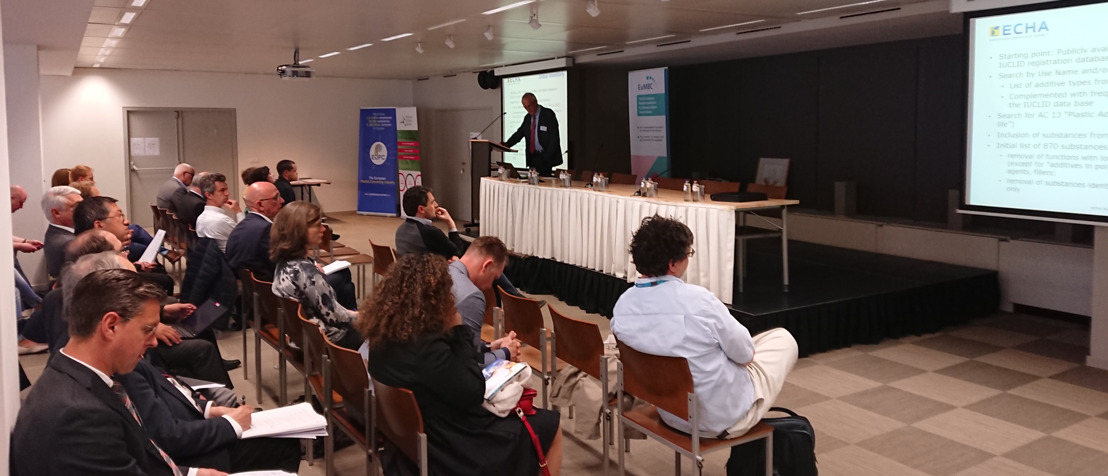 EuMBC Conference 2018 a full success
High-level speakers gave the latest insights on EU regulatory and industry developments for Masterbatchers & Compounders.
Tuesday, May 22, 2018 —
EuMBC, the European Masterbatchers and Compounders association, invited to its 2018 Conference on 17 May in Brussels with key speakers from ECHA, the European Commission, and many more.
Morning session focusing on REACH
EuMBC president Marc Cornu welcomed the 35 particpants and opened the morning session with a short introduction to the European Masterbatchers and Compounders association before the first three speakers focused on REACH legislation.
Anrej Kobe, Policy Officer for Sustainable Chemicals at DG Environment first presented the developments in the definition for nanomaterial and gave an update on the REACH annexes. In the second presentation Andreas Ahrens, Senior Officer at ECHA presented the project "Ranking the release potential from additives in plastic articles – Method helping to prioritise and deprioritise substances for further work" To round up the morning session Marc Kiener, Management Consultant at Fit4REACH - likedeelers GmbH presented the possibilities for companies whose suppliers did not register until the deadline 31st May 2018.
Afternoon session focusing on food contact material, the EU Plastics Strategy and issues in the drinking water sector
After lunch Dario Dainelli, Director of Quality and Regulatory Affairs, SITGROUP & FREP Chairman, EuPC gave an update on food contact material plastics. Dario's presentation was followed by Paolo Sandri, Policy Officer Chemicals at DG Growth who gave an overview of the EU Plastics Strategy - "a strategy for and not against plastics - a material with lots of advantages". Volker Meyer, Chairman of the European Drinking Water Alliance had the honour to close the conference with his presentation about issues in the drinking water sector and initiatives to obtain simplification.

The EuMBC conference 2018 was a full success, participants had the possibility to get key information from regulatory bodies and experts which is highly important in the industry of masterbatching and compounding.
In case you would like to receive more information about EuMBC or join one of our upcoming events please feel free to contact us under info@compounders.eu.
EVENT ORGANISED BY POLYMER COMPLY EUROPE